2019-08-16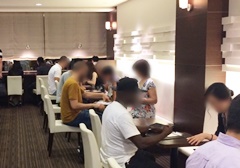 Aug 16 (Fri) Ginza Coupling Party
Aug 16 (Fri) Ginza Coupling Party

23 men
20 women
6 couples!

We'd like to thank everyone for coming to the event tonight.

Spring is almost here and that means the cold is finally going away. However, the setting here was anything but cold. Plenty of great talking and fun all around in Ginza tonight.

Thanks again to all of our participants and we hope you will join another of our events in the future.